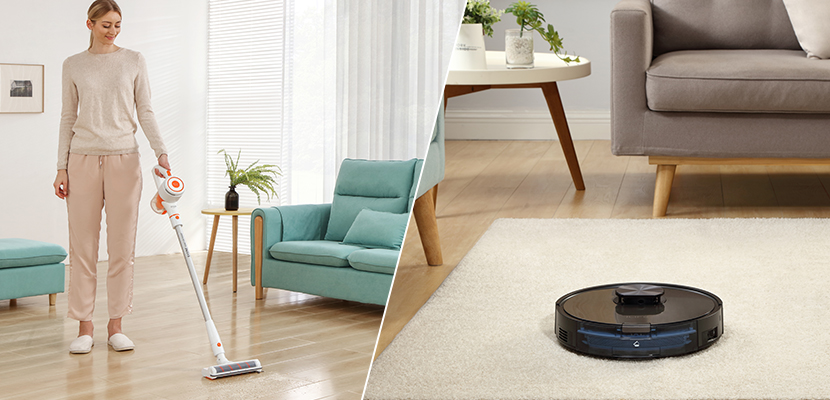 How to Choose Between Robotic Vacuum and Cordless Stick Vacuum
Fundamental Knowledge of modern cleaning Machines There is always a discussion about which one is Better between Robotic Vacuum and Cordless Stick Vacuum ? In this article, we'll walk you through the history and technology of these two types. You may get an idea of how to choose the appropriate one. History of Robotic Vacuum Robotic Vacuum has been around the market for years. The product evolution was followed by New coming Navigation technology since the first generation Robotic Vacuum with random Navigation came out. Ever since then, Visual Slam, Radar Slam Navigation and the latest AI Navigation technology have been coming out to the market consequently. The three key features that Robotic Vacuum contains are Automation Intelligent Hands-free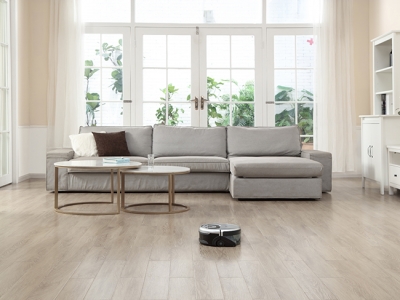 What Makes ILIFE Shinebot W455 so Peculiar?
ILIFE has always kept its craftsmanship spirit by creating series of products of high quality and excellent price since its launch of the intelligent robot vacuum project in 2010. As a high-tech enterprise, the China-based producer extends the business scope to more than 40 countries and areas at home and abroad, including Asia, Europe, and the Americas. Its products include robot vacuums, floor washing machines, handheld vacuums, and other superior household cleaning devices. Today we will talk about floor washing robots, as the latest one of that kind, W455 has a lot to be praised. Design Instead of saying that W455 is a sweeper, it is better to say it is a Garage Kit. It features a subtle, almost silver plastic lid surrounded by a black-and-silver casing and bumpers. Set Up As a multi-functional robot, W455 offers four operation modes for your preference. 1. Panel button It is convenient for you to take control of W455 by simply two mechanical buttons with visual icons on the panel, including turning on/off the robot, switching cleaning modes, water tank alerting, and WIFI indicating 2. Remote control Just like adjusting the TV with remote control, W455 can also be adjusted by remote control, including changing courses, adjusting cleaning modes, turning on/off the voice alert, carrying out repeating orders, regulating water flow, and switching brush speed. 3. Voice assistant The voice assistant is like Siri, which can provide real-time work status of the machine such as error reporting through voice prompts. 4. ILIFEHOME APP control ILIFEHOME APP facilitates multi-functional applications. You can set a cleaning area, make a cleaning plan, or even customize different cleaning needs via the APP. Features Upgraded Panoview Navigation Assisted by the CV-SLAM algorithm and built-in gyroscopes, W455 makes more systematic navigation come true under the panoview visual, improving its accuracy while avoiding any neglected cleaning areas. Tidal power Cleaning System Four-step cleaning methods make a deeper washing possible. W455 will help to clean stubborn stains while protecting the floor through the tidal power cleaning system StepⅠ: Moisten Dampen the floor with clean water, spraying evenly from 6 sprinkler nozzles at the bottom of the device, to loosen stubborn stains and dust. StepⅡ: Scrub Microfiber roller with high water absorption and strong decontamination brushes away stains on the floor while recollecting most of the sewage. Step Ⅲ: Scrape Tail scraper, touching close to the ground, effectively scrapes stubborn stains while recollecting residual sewage. Step Ⅳ: Suction The inner brushless motor creating huge suction wipes off the remaining small particles such as sewage and dust. OBS All-Terrain Detection System: Anti-collision, Anti-Fall, and Anti-stuck W455 has a set of terrain detection sensors playing protective roles while assisting cleaning tasks. 7 groups of OBS obstacle avoidance sensors 3 groups of ground probe sensors 2 sets of sensors working while against the wall 1 group of nose wheel electronic detection sensor Dual water tanks design W455 is equipped with two separating water tanks--a 0.85L of the water tank, and the other 0.9L of slop tank. While the water tank sprays clear water to moisten the floor, the drain tank is responsible for the process of suction sewage, dispelling any potential secondary contamination. What is more, a large volume of tanks is helpful for a one-time large sweep. Three cleaning modes Path Mode: Cover a relatively larger space methodically and regularly. Area Mode: Clean a designated area with an approximate range, generally is about 25 square meters. Spot Mode: wipe out the stubborn stains in a spiral pattern. Summary The high-powered W455 will never let you down, deserving to be part of your home appliance. It is better for hard floors with fine sealability, such as ceramic tile, wooden floor, marble floor, and leather floor, etc., carpet excluded. More Blog Articles You May Would Like to Read: How Does the ILIFE Shinebot W450 Clean the Floor? How to Get Your Floor Washing Robot Maintenance? -Take W455 as a Example What Shinebot W400 Surprises You Most? --a Floor Washing Robot With Dual 0.9L Water Tanks ILIFE Floor Washing Machine Shinebot W455 is Now Available in Europe Fun Summer Activities You Can Do How to Maintain Your Robotic Vacuum? Introduction to ILIFE Shinebot W400 Series ILIFE Ranks on 2019-2020 AliExpress Top 10 Brands List ILIFE A10 Wins the Red Dot Award Product Design 2020 ILIFE Wins LAZADA Top Brand Award 2020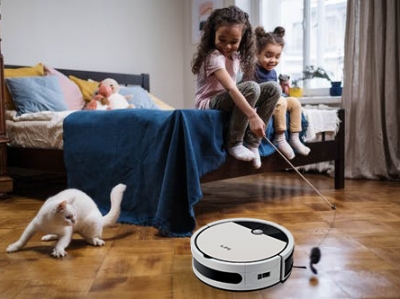 ILIFE V9e, a Pet Hair Cleaning Expert Designed for 4000Pa Super Suction
Do you still languish for a robotic vacuum cleaner with huge suction? Don't meet trouble halfway. As a step-up for ILIFE vacuum technology, ILIFE V9e will sweep your worried look away. Exploded View Design V9e is relatively smaller than most of its counterparts. A round-shape design with approximately 12 inches in diameter lets it run to any part of the house, sweeping almost every fine dust and debris long-existing in the dead corners, let alone the bottom of sofa or chairs. NIDEC Brushless Motor A brushless motor serves a super-strong suction, making everything from fine dust to large particles, especially for pet hair, no place to hide no matter on hard floors or low carpets. Comparing with a brush one, a brushless motor offers sustained strong power with a long lifespan. Cyclone Dustbin A cyclone design can still keep a stable suction strength while a long-time use. A 0.7L of large dustbin can contain a large volume of garbage at a time, solving the problems of frequent trash removal. Equipped with a three-stage filter system including a HEPA filter, the dustbin can even intercept particles in the air. The filterability is tested many times, by the way. In addition, a cleaning brush is installed inside the bin, facilitating its inner cleaning. Large Capacity Lithium Battery A powerful suction ability will not come true without a large capacity battery. However, V9e makes it. Assembled with 6 series battery packs, its range time is up to 110 minutes under full charge condition Detachable Components A machinery fan can even disassemble or reassemble a V9e because of its detachable property which is convenient for daily disassembly and cleaning of foreign bodies. Besides, we can take down the side brush for daily maintenance, indispensable for stable-high performance. APP Remote Control ILIFE has spent a lot of time in APP research and development, making a 24/7 connection easy and available. There are many functions on its APP for your needs. Real-time mapping: APP will tail after the robot to create a clean map, offering a clear cleaning path, clean time, and cleaning area. Time schedule: Make an appointment at random for a week. Cleaning record: A seven-day cleaning record can be checked out via APP. Malfunction remainder: APP will show you what's going for the robot, such as suspending problems and blocking issues. restore factory setting: V9e can unbind the APP while formatting all cleaning records and reservation information. Various Optional Cleaning Modes Auto mode: maximize coverage in a large space. Spot mode: clean the specific area with 4000pa suction. Edge mode: handle corners and edges cleaning. Max mode: enhance suction up to 3000pa. Brief Summary A huge suction design is always half of strong cleaning ability. While selecting a robot vacuum cleaning, a huge suction function is a top priority for choose. Therefore, why not try a V9e? More Blog Articles You May Would Like to Read: The Best Robot Vacuums for Pet Hair in 2021 Which Is the Best LIFE Robot of "V8" to Use? What Do You Need to Know About the ILIFE V80 Max Vacuum Cleaner? --Hard Surface Flooring Expert Brief Introduction of ILIFE V5s Pro --Floor-Friendly Robot Vacuum Cleaner How to Get a More Optimal Plan for Raising Pets? How ILIFE Robots Help You Make a Work and Life Balance? How to Maintain Your Robotic Vacuum? 3 Key Functions to Be Considered When Choosing Robot Vacuum for Pet Hair Cleaning 3 Guess for Future Robotic Vacuum Cleaner 5 Ways to Choose Which Cleaning Device Is for You B5 Max - Well Balanced Robotic Vacuum ILIFE Ranks on 2019-2020 AliExpress Top 10 Brands List ILIFE A10 Wins the Red Dot Award Product Design 2020 ILIFE Introduces Three New Products at CES 2020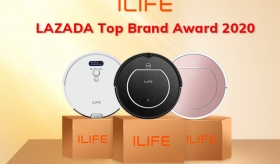 ILIFE Wins LAZADA Top Brand Award 2020
ILIFE, one of the outstanding Chinese cross-border brand, is awarded the LAZADA TOP BRAND on LAZADA Cross-Border E-commerce Conference 2020 held in Hangzhou, Zhejiang Province, China on Sept. 17, 2020.
Read on