ILIFE A10 Product Introduction
ILIFE First Ever LIDAR Navigation Product
Since 2010, ILIFE has been in robotic industry for over a decade.
To celebrate the 10-year anniversary, ILIFE's 10-year flagship product: A10 launched to the market.A10 contains more advanced LIDAR navigation technology which hugely improves navigation accuracy and obstacle avoidance.
When you first look at it, u will definitely see the classic ILIFE elements,but it also comes with a high-end glossy gray finish.With the radar sensor sitting on the top of the machine, A10 as a whole looks a cutting edge design art creature.
A10 maintains two side brushes design, not to mention the engineer colored the left brush with yellow color, right brush with blue color. One unique feature is side brush speed can be adjusted between 0 to 100 by ILIFE phone application.
Roller Brush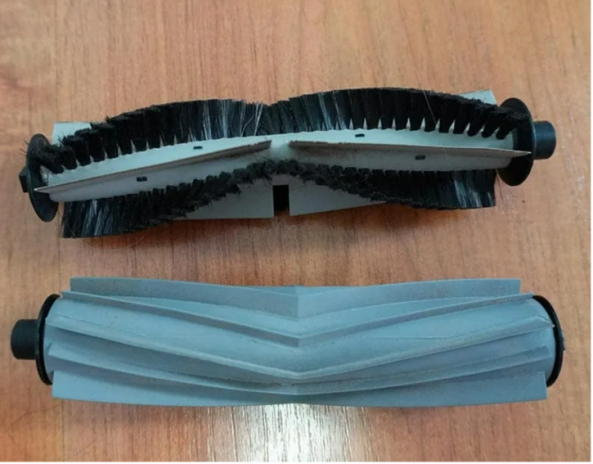 Two different type roller brushes are given in the package.
Hard roller brush is designed for pick up pet &human hair, better to avoid hair tangle.
Soft roller brush is designed for pick up general dust or debris, the curve on the brush is specially crafted to meet this purpose.
Switch button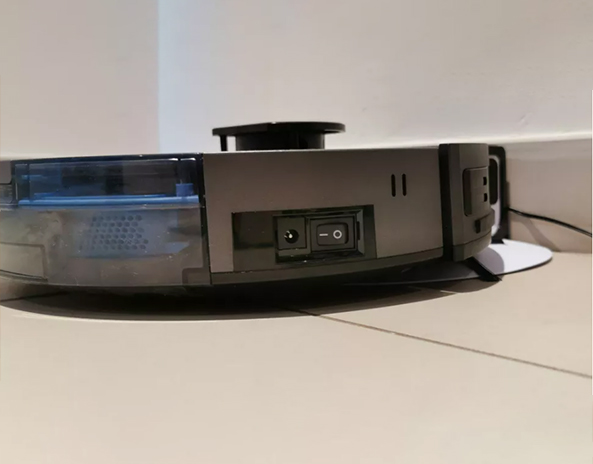 Switch button and charging dot are distributed on the right right bottom side of the machine.

Dustbin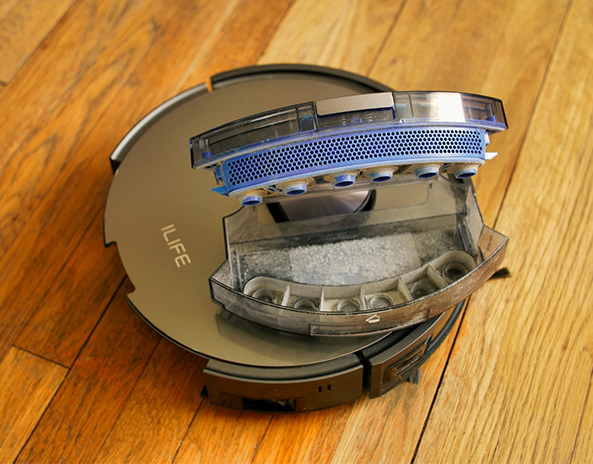 The Inside of A10 dustbin is totally another beast
Up to 600ml ultra large dustbin
Six conical cylinders form into 'Cellular' design, trap more dust and allergens as it cleans.
HEPA Filter that make sure there will be only clean air floats inside the machine.
Remote Control not only can control the direction of the machine goes, but also can switch A10 into different cleaning modes such as Auto/ edge/spot/Normal,Max modes.
What's inside the box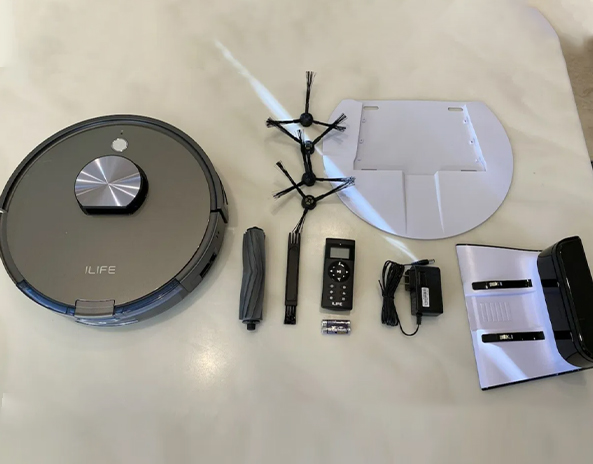 A10 Machine

Charging Dock

Charging Dock Pad

Side Brush*2

Remote Control+Battery

Soft Roller Brush

Power Adapter

Dust clean brush

Phone application

Phone application is the most important feature that A10 brings because LIDAR navigation technology is all about navigation accuracy, this improvement will mainly show on the phone application.
The major update for A10 application is "Restricted Zones" and map drawing accuracy.
Thanks to the LIDAR navigation ability, phone application can draw the restricted zones that A10 will never across. This feature gives A10 users more flexibility to organize your cleaning routine, make A10 more intelligent.
Other features ILIFE APP worth to mention including schedule cleaning, parts maintenance status,remote control, manage floor maps etc.These are all quite convenient features A10 have in daily use.

Major product features

Works with Alexa

Auto boost on customized area

Schedule to clean specific rooms

Super large batter capacity

Auto recharge

Multiple clean modes

Anti-collision and Anti-Dropping

Product Parameter

Product Dimension: 330*320*95mm
Net weight: 2.65kg
Gross weight: 5.5kg
Color: Iron Grey

Charging type: Auto Charging / Manual Charging
Cleaning mode: Auto, Edge, Spot, MAX
Charging time: ≤ 380min
Cleaning time: > 100min
Body button type: Mechanical Button

Battery specifications: Li-ion
Ability to cross obstacles: ≤ 15mm
Applicable ground: Tile, wood floor, carpet
Power: 19V / 600mA 22W



Review Summary:
With the cost-friendly price/ advanced navigation/multifunctional phone application and many other incredible features, ILIFE A10 is the robotic vacuum u will never miss out.




More Blog Articles You May Would Like to Read:
Recent Articles