W90
Wet&Dry Vacuum Cleaner
W90
Ultra Clean in One Step
Cordless Wet Dry Vacuum Cleaner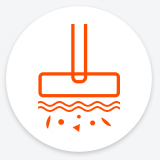 3-in-1 Vacuum,
Mop &Wash
700ml
Clean Water Tank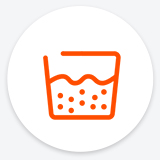 500ml
Used Water Tank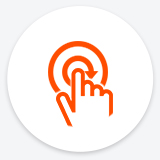 One-click
Self-cleaning
Multi-surface
Cleaning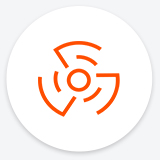 Powerful Suction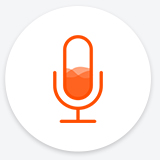 Voice &
Light Prompts
Easier and Quicker Than Ever
Make Your Floor Shine
Wet and Dry, Clean in One Step
Vacuum, mop, and wash, an innovative 3-in-1 cleaning system, can efficiently erase wet and dry household messes at a stroke.
Real-time Fresh Water Cleaning
The dual-tank design keeps clean and dirty water separate for continuous cleaning with fresh water.
So you can always clean your floors with fresh water every second.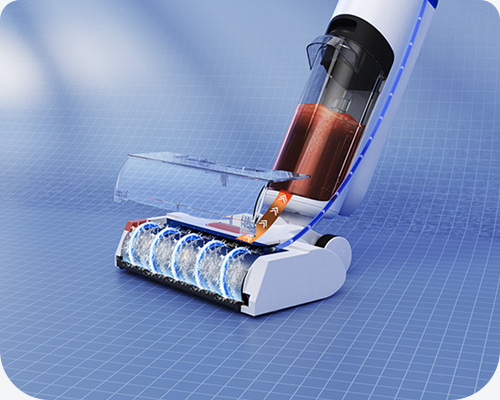 Step 1:
Real-time spraying of clean water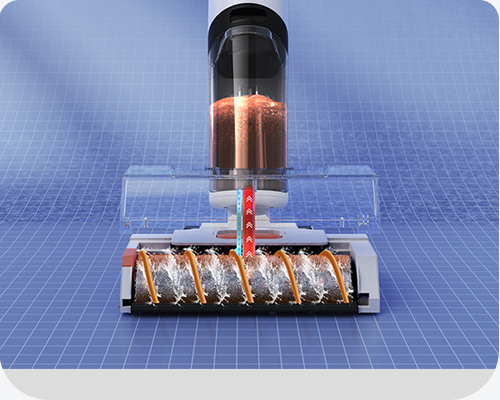 Step 2:
Roller brush scratches out sewage water stains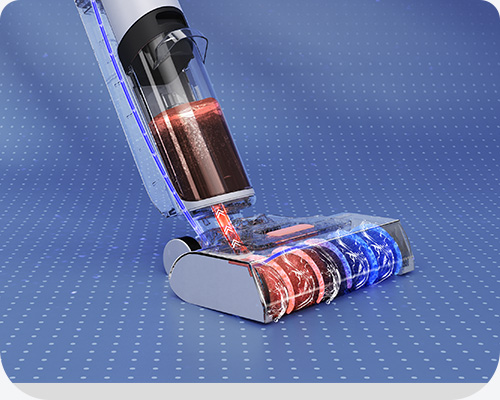 Step 3:
Sewage water into the dirty water tank
Bigger Dual Tank,
Longer Cleaning
Higher-capacity clean and dirty water tanks
allow you to clean larger areas without interruption.
A 700ml clean water tank provides ample water to
clean floors longer and refill less often.
One-click Robust Self-cleaning
At the touch of a button, the one-click self-cleaning cycle removes dirt,
hair, and debris from the brush roller within 1 min for fast and
mess-free maintenance. Keep your hands clean and ready for
your next cleaning challenge.
Deep Home Clean,
All Surfaces and All Messes
Clean Smarter with Light
and Voice Reminder
Easy for all-age use with real-time voice & light
reminders. The helpful voice assistant gives you
real-time updates while enjoying the cleaning,
including performance, power and water tank status,
and other operational reminders.
Low Battery Indicator
Checking Roller Brush
Clean Water Tank Shortage
Empty Dirty Water Tank
Powerful Multi-Surfaces Floor Cleaning
Intense suction power combined with a robust roller brush effortlessly wipes out all kinds of wet and dry messes with low residual moisture in one go on multi-surface hard floors. Suitable for hardwood, laminate, linoleum, tile, vinyl, marble, stone, etc.
Tile Floor
Laminate
Vinyl
Hardwood Floor
Normal Mode: Daily Clean
Max Mode: Deep Clean
One Hit, All-Scenario Clean
Meet different cleaning purposes, suitable for a variety of home environments.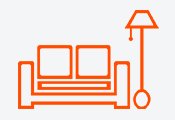 The Living Room
Coffee/milk stains, pet hair,
dust, particles.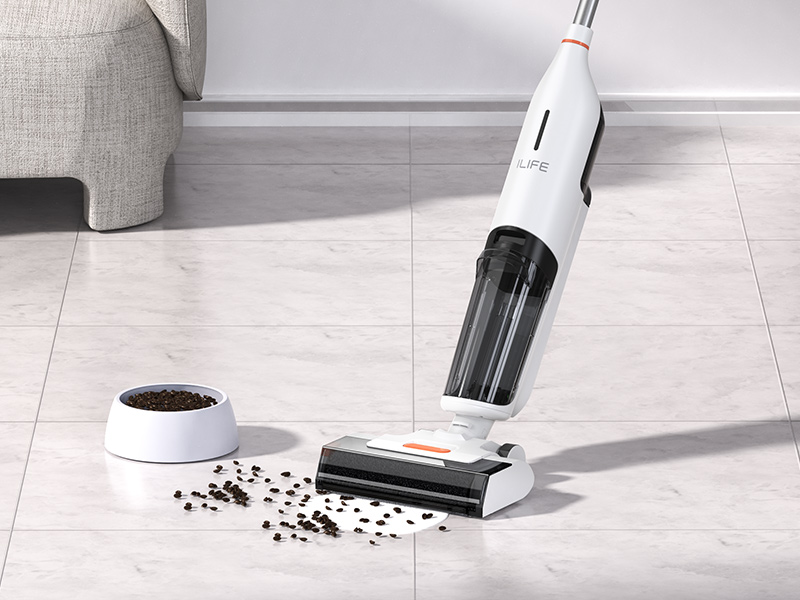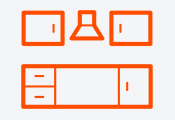 The Kitchen
Sauces, noodle soup, egg.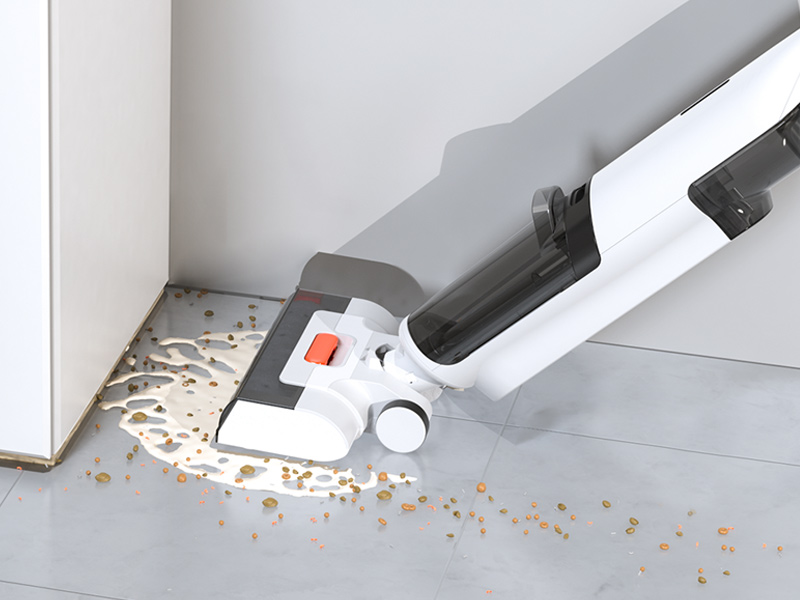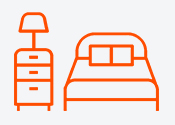 The Bedroom
Hair, debris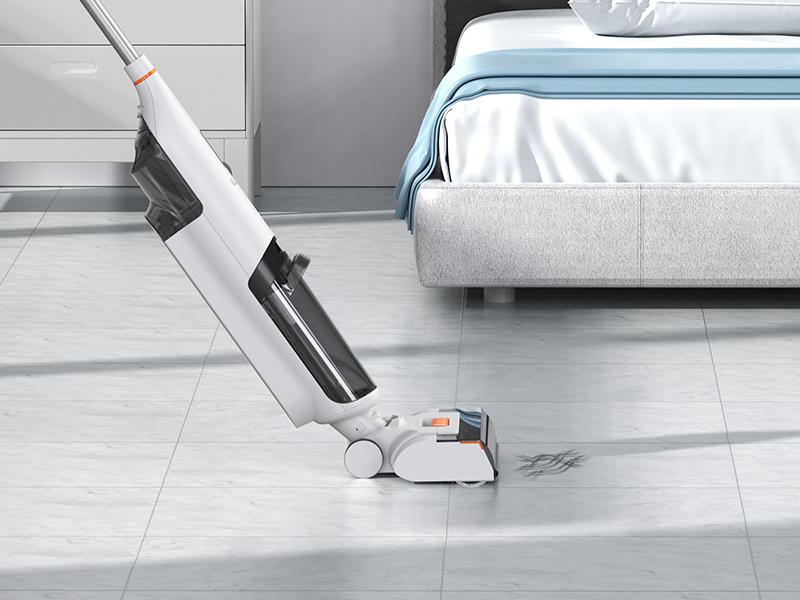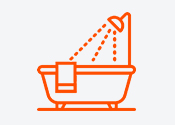 The Washing Room
Water stains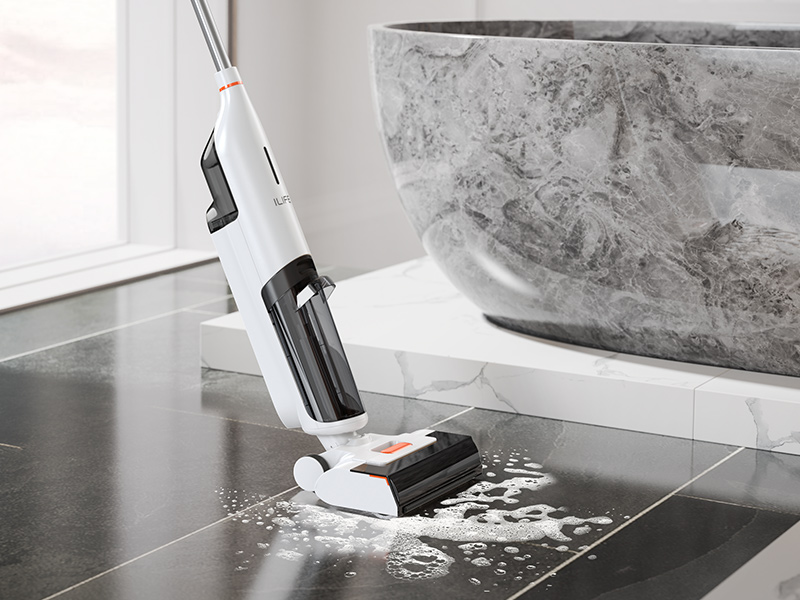 Large Or Small, Nothing to Worry
Super Long Runtime for Huge Coverage
A high-capacity battery pack consisting of 6x 3,000mAh cells
delivers up to 30min long-lasting runtime to make your floors shine.
Easy to clean large-scale house (200m²) with up to 4 rooms on a single charge.
Worry-Free Operation
A perfect combination of high power motor
and noise-reduction runtime. No worry about
disturbing pets, children, or even the residents.
Low Noise
Brushless Motor
Soft Roller
Floor Brush
≤72dB
Thoughtful and User-friendly Design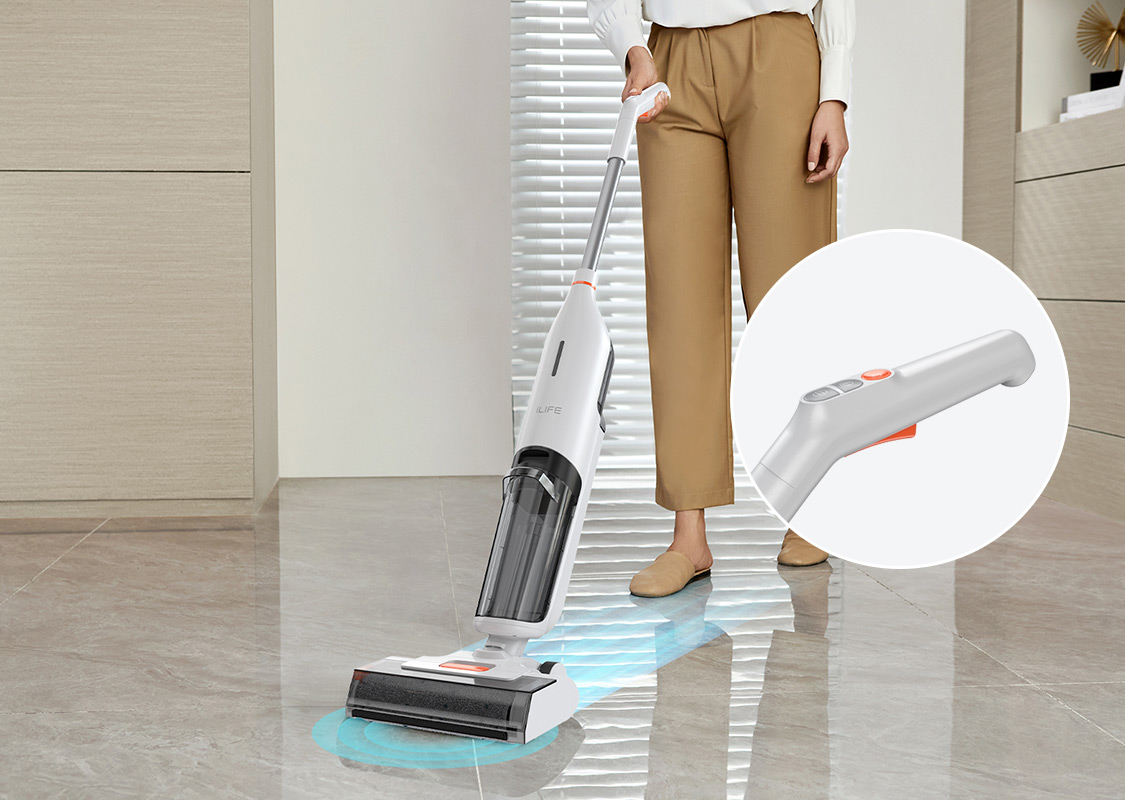 Ergonomic Design &
Cord-free Convenience
Cord-free and ergonomically designed,
W90 features optimized height and
an easy-to-grip handle to maneuver
with max comfort.
3-in-1 Dock for Easy Maintenance
The 3-in-1 dock supports convenient storing and charging to keep your device W90 and its accessories organized while allowing for easy self-cleaning with just a click of a button.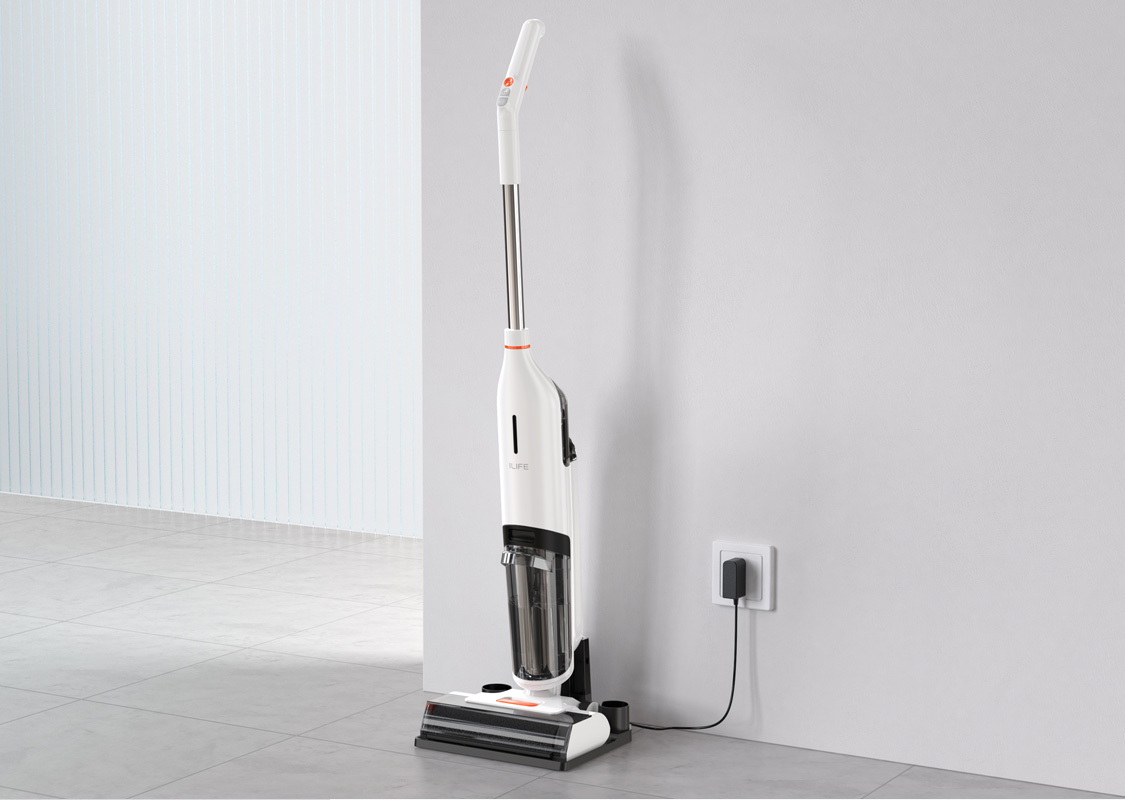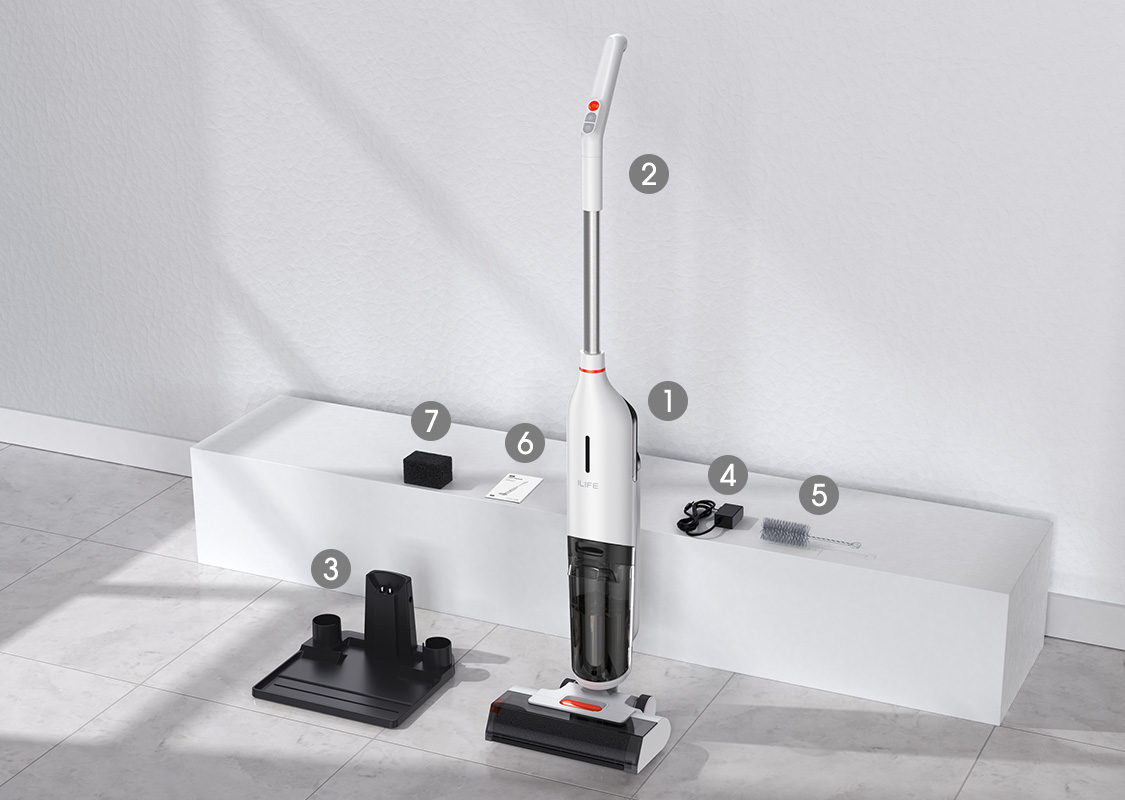 Packing list
1Main Body x1
2Handle Assembly x1
3Charging Base x1
4Power Adapter x1
5Cleaning Tool x1
6User Manual x1
7Sponge Filter Screen x2
Product Specifications
Model: W90
Net weight: ~4.5kg
Capacity of clean water tank: 0.7L
Capacity of dirty water tank: 0.5L
Dimension: 1193*280*255mm
Rated voltage: 100V-240V 50/60Hz
Rated power: 150W
Noise: 72dB
Battery capacity: 3000mAh