The Best Robot Vacuums for Pet Hair in 2021
Are you a pet lover, but dare not to raise or adopt one because of the problem of pet hair? I believe that most answers will be yes. As we all know, most furry pets have the same trouble of hair removal, let alone seasonal hair loss. Don't trouble yourself anymore, here I will recommend some good robot vacuums to you, and you will get rid of the cloud hanging over you.
As one of the world-known manufacturers in the intelligent cleaning industry, ILIFE has launched its "V Series" gadgets is ideal for pet hair cleaning, which covers a huge range of products. Today we will pick some which are ideal for cleaning pet hairs.

V9e--A premier choice with up to 4000Pa big suction
This is the highest ever suction ILIFE robot vacuum has. with up to 4000pa big suction can easily pick up everything from fine dust to large particles. With more than 700ML Large Cyclone Dustbin, v9e could free hands from frequency of emptying the bin. Equiped with a three-stage filter system including a HEPA filter, v9e can removes up to 99.95% of tiny particles and allergens up to 0.3 microns in size.
Great Suction Capability

A super strong 4000Pa suction makes everything from fine du
st to large particles
, especially for pet hair, no place to hide no matter on hard floors or low carpets.

Advanced Filtration Design

After separating different sizes of particles step-by-step, the 3-stage filtration system of V9e will suck into all kinds of the garbage while expelling fresh air, killing 99.95 allergen and bacteria effectively.

0.7L Cyclone Dustbin

V9e offers a large 0.7L dustbin that relieves the need to take out the garbage frequently. Besides, the detachable and washable design of the dustbin makes it clean and maintain expediently.

ILIFEHOME App Connection

As a smart robot, V9e is allowed to operate via an APP 24/7.

4 Optional Cleaning Modes

Auto mode: maximize coverage in a large space.
Spot mode: clean the specific area with 4000pa suction.
Edge mode: handle corners and edges cleaning.
Max mode: enhance suction up to 3000pa.

V3s Pro--ILIFE Best Seller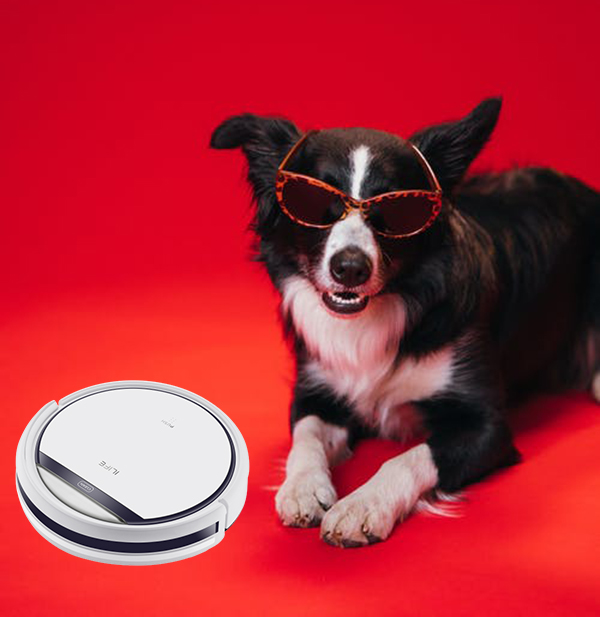 ILIFE V3s Pro is a big hit. It has received many good feedbacks since its first launch. Get one and feel the charm of it, you will not regret it!

Powerful suction & AirAway filtering
A slim and sleek body
Anti-dropping sensors
Auto dock and recharge
Full set of advanced sensors

V5s Pro-- A Definite Pragmatist
As a pragmatist, V5s Pro has witnessed the daily life of more than 10,000 families. It's a good try to have it!

Specially designed for hard&wood floors
Multiple Cleaning Modes
Clean Hard-to-Reach Areas
Full Set of Advanced Sensors

Any of the products above if perfect for pet hair removal. What's more, there are also other similar items for your choices. Please see this page for details:

https://iliferobot.store/collections/v-series


It is well-known that International Dog Day, celebrated every year on the 26th of August, is around the corner. The purpose of this day is to honor DOG, the most loyal friend of humans. It is meaningful for us to take some time to admire and cherish these lovely furry babies, especially at this special moment. If you have any raise or adoption plan, do it now; if not, donate a robot cleaner to Animal Welfare Organizations is also a good choice.
On this

Dog Day

occasion, the ILIFE store will release some order coupons to honor our loyal friends. Do not miss that!




More Blog Articles You May Would Like to Read:
Recent Articles