What Is a Dual Filter Set Up?-ILIFE A8 Will Show You
As carpet cleaning experts, the ILIFE A-series robots are good at using a dual filter set up to bring a perfect filtering outcome. As part of that kind, A8 inherits the tradition by installing the high-performance dual filter. Let's see how it work together!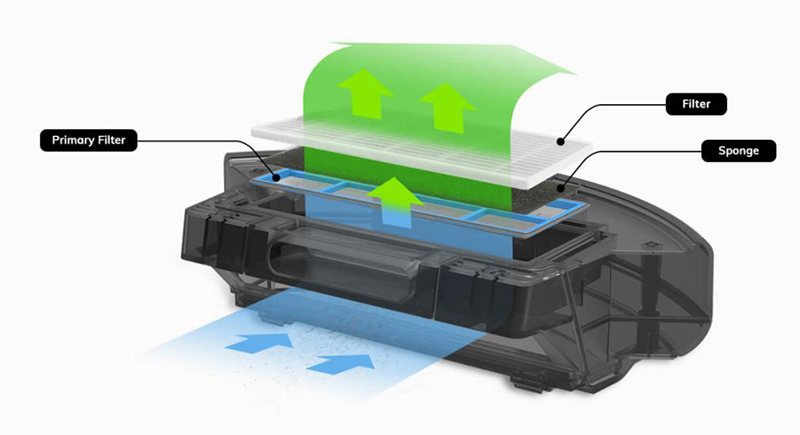 The first level is a primary filter made up of a standard folded material. It captures larger dust and particles and prevents the motor from getting dirty. This filter does a great job by collecting most of the garbage visible to the naked eyes so well that the filter directly behind it only needs to do a little to get the job done well easily.

However, the second filter is actually what the magic is. It is HEPA certified and gathers particles down to 3 microns in size, leaving no garbage, no matter what visible or invisible, behind.

All in all, this setup takes up to 99 percent of all in-home allergens away efficiently and effectively, includes pet dander, dust mites, and pollen. Apart from that, it also enables A8 to release fresh air to your home.

Since the less the filter is polluted, the more efficient the motor will be and the better the robot will operate. A good filter performance shall be one of the high priorities when considering buying a vacuum cleaner. That's part of the reason why ILIFE A8 should be on your purchasing list.

Apart from a high-performance filter, ILIFE A8 comes with a lot of extra tools and brushes as follows:

Side brushes: gather any dirt or debris at corners and edges
Rubber brush: rolls up debris and particles on hard floors while avoiding a tangle
Bristle brush: deal with residues and remains on carpet.

Equipped with the groundbreaking Panoview navigation and a live-vision camera, ILIFE A8 could scan the rooms and create a panoramic vision of its surroundings while cleaning methodically, improving the cleaning efficiency and making the continuation cleaning of breakpoint possible.
Brief Summary


As a classic robotic vacuum cleaner with a dual filter setup, ILIFE A8 is better to give back a spotless and cozy living environment. Please click here for more information.
More Blog Articles You May Would Like to Read:
Recent Articles