H50
Cordless Stick Vacuum Cleaner
ILIFE
H50
Cordless Stick Vacuum Cleaner
Less Hassle, Deeper Clean
Powerful Suction for Various Cleaning Tasks
Efficiently pick up dust, crumbs, pet hair, debris, and even beans
from hard floors and carpets. With the spare 2-in-1 suction nozzle, you can even
clean the entire house and interior of cars.

Normal Mode
Cleans up to 40min under
7kpa suction.

Max Mode
Up to 10kpa powerful suction for
intensive clean for various areas.
Sanitary Garbage Disposal
on
1.2L Dustcup
The large dustcup is twice the capacity of common
ones in the market, decreasing the frequency of
trash disposal. With one simple touch, you can dispose
of trash easily and hygienically, without touching
trash and dust.
Washable Filter kit is eco-friendly and economical,
which helps to keep the peak performance
of the appliance in a easy way.
Garbage and dust collected in the
1.2L clear bin can be discharged
straight into the trash can.
The transparent dustcup with
the -MAX- mark informs the trash
disposal requirement visually.
Comfortable to Handle
The ILIFE H50 is designed to fit your hands ergonomically
and enhance cleaning experience.
Reasonable Trigger Layout
The trigger is placed at the top corner of the
handle, which is easy to reach when necessary
and avoids accidental powering on.
Ergonomic Design
Fit your hand ergonomically to offer
comfortable holding without fatigue even after
long time cleaning.
Convenient to Store
Quickly hang H50 on the wall mounting bracket or just attach it
to the stick, both ways save space on storage.
Available to Clean

Various Areas
Clean high places with minimum efforts,
and use it for various purpose such as
cleaning desktop, book-self, stairs, sofa,
and the interior of cars.
Easily switch to handy vacuum cleaner.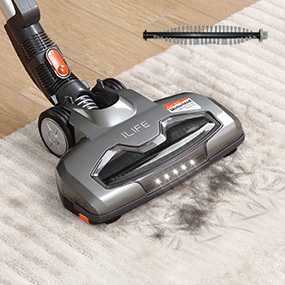 Bristle Roller Brush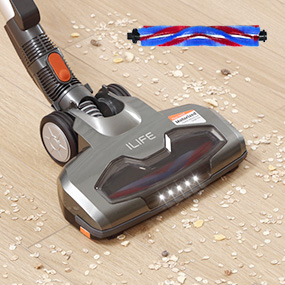 Soft & Fluffy Nylon Roller Brush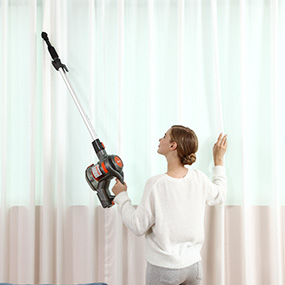 2-in-1 Nozzle Suction (with brush)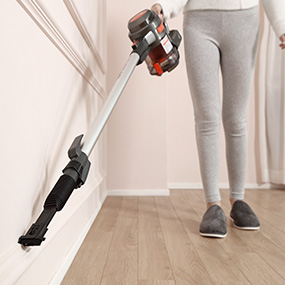 2-in-1 Nozzle Suction (with brush)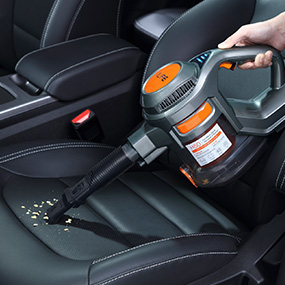 2-in-1 Nozzle Suction(without brush)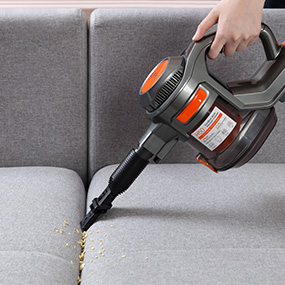 2-in-1 Nozzle Suction (without brush)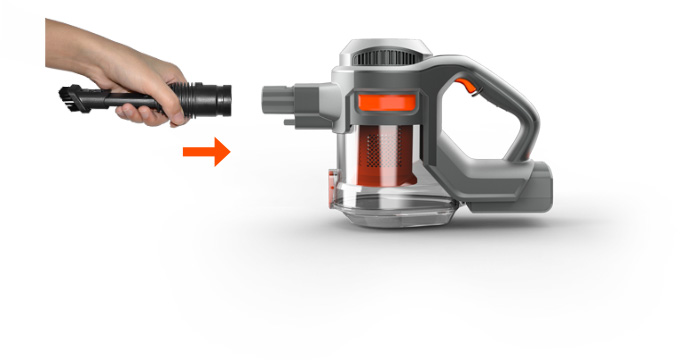 Superior Motorized Floor Head
The flexible structure directs the floor head to the corners and bottom of furniture,
covering all spaces that need cleaning. The LED lights on the floor head illuminates areas in dark,
making cleaning much easier.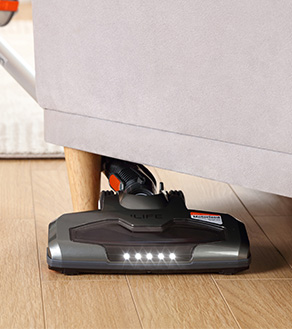 Flexible Swivel Neck
The adjustable floor head is 180°flexible to bypass the furniture foot and reach areas under furniture for deep cleaning thoroughly.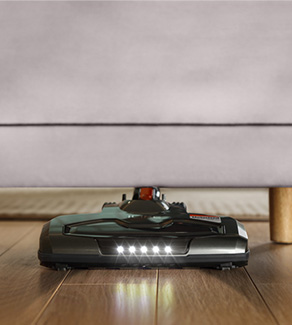 Built-in LED Lights
Ensures thoroughly cleaning even in dark areas.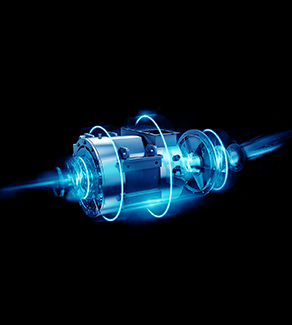 Direct-drive Motor
The built-in direct drive motor supplies power efficiently and stabilizes the center of gravity of the floor head.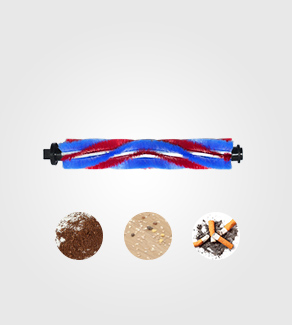 Soft and Fluffy Nylon
Roller Brush
Performs well in capturing large debris and tiny dust from hard floors and carpets.
Up to 40 minutes Runtime
The equipped high-performance 6-cell Li-ion battery with a large capacity allows
you to clean up to 40 minutes, delivering powerful and unchanging suction during the entire cleaning,
covering the cleaning area up to 200sqm.
Detachable Design
The detachable battery of H50 is available to chargedirectly, allowing continuous cleaning when you've purchased an extra battery.
Remark: 40 minutes runtime is available in Normal Mode.
ILIFE
H50
Product Outline
Motorized Floor Head
Cleans hard floors and carpets with
great stability and efficiency.
Flexible Swivel Neck
Easily twist your wrist and direct
floor head to hard-to-reach areas
for thorough cleaning.
Detachable Long Tube
The equipped alloy alumina tube helps
you clean the high place easily, as well
as under furniture and gaps.
High Performance Motor
The superior motor provides powerful
suction up to 10kpa, picking up various
debris and dust easily.
Battery Indicator
The indicator shows the battery status
no matter during cleaning or charging.
Soft Trigger
Trigger the appliance only when necessary,
so that the battery can be used efficiently.
Ergonomic Handle
Provides optimum comfort and avoids
stress for long time use.
Powerful 6-cell Battery
Ensures powerful and unchanging
suction during your cleaning.
1.2L Large Dustcup
Decrease trash disposal frequency,
and the release button allows trash
disposal hygienic and easy without
touching trash and dust.
Washable Filter Kit
The replaceable and washable filter kit
helps to keep ILIFE H50 in peak
performance easily and economically.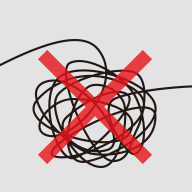 Great Freedom to Clean with Cordless Design
Without the limits of cord connection, you are allowed to expand cleaning areas freely while cleaning.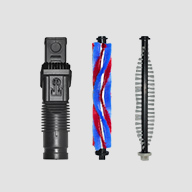 Optimal Tools
Covers the majority of cleaning tasks in your house and interior of cars.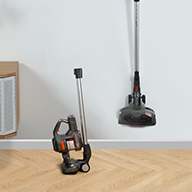 Convenient to Store
Save storage space by hanging it on the wall or attach it to the stick.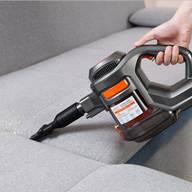 Easily Switch to Handy
Cleaner
Handles cleaning on stairs, sofa, and interior of cars.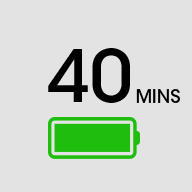 40min Runtime
Cleans area up to 200sqm with unchanging suction.