What Makes ILIFE Shinebot W455 so Peculiar?
ILIFE has always kept its craftsmanship spirit by creating series of products of high quality and excellent price since its launch of the intelligent robot vacuum project in 2010. As a high-tech enterprise, the China-based producer extends the business scope to more than 40 countries and areas at home and abroad, including Asia, Europe, and the Americas. Its products include robot vacuums, floor washing machines, handheld vacuums, and other superior household cleaning devices. Today we will talk about floor washing robots, as the latest one of that kind, W455 has a lot to be praised.

Design

Instead of saying that W455 is a sweeper, it is better to say it is a Garage Kit. It features a subtle, almost silver plastic lid surrounded by a black-and-silver casing and bumpers.

Set Up

As a multi-functional robot, W455 offers four operation modes for your preference.

1. Panel button
It is convenient for you to take control of W455 by simply two mechanical buttons with visual icons on the panel, including turning on/off the robot, switching cleaning modes, water tank alerting, and WIFI indicating

2. Remote control
Just like adjusting the TV with remote control, W455 can also be adjusted by remote control, including changing courses, adjusting cleaning modes, turning on/off the voice alert, carrying out repeating orders, regulating water flow, and switching brush speed.

3. Voice assistant
The voice assistant is like Siri, which can provide real-time work status of the machine such as error reporting through voice prompts.

4. ILIFEHOME APP control
ILIFEHOME APP facilitates multi-functional applications. You can set a cleaning area, make a cleaning plan, or even customize different cleaning needs via the APP.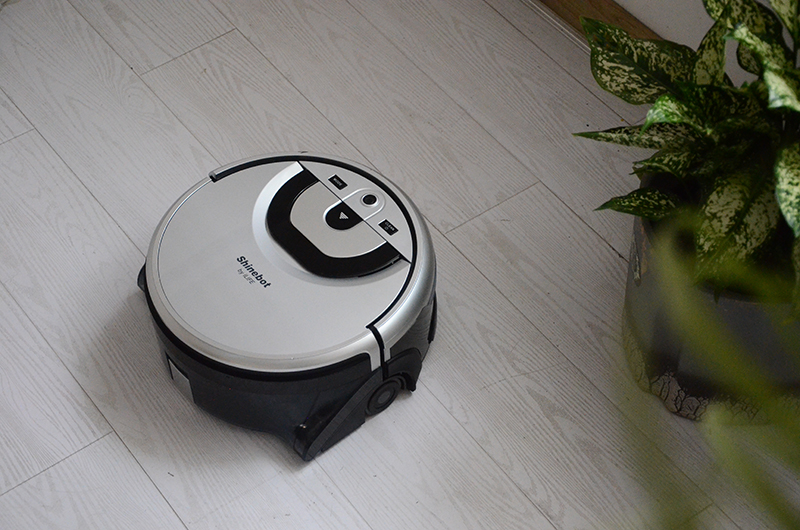 Features
Upgraded Panoview Navigation

Assisted by the CV-SLAM algorithm and built-in gyroscopes, W455 makes more systematic navigation come true under the panoview visual, improving its accuracy while avoiding any neglected cleaning areas.

Tidal power Cleaning System

Four-step cleaning methods make a deeper washing possible.
W455 will help to clean stubborn stains while protecting the floor through the tidal power cleaning system
StepⅠ: Moisten
Dampen the floor with clean water, spraying evenly from 6 sprinkler nozzles at the bottom of the device, to loosen stubborn stains and dust.
StepⅡ: Scrub
Microfiber roller with high water absorption and strong decontamination brushes away stains on the floor while recollecting most of the sewage.
Step Ⅲ: Scrape
Tail scraper, touching close to the ground, effectively scrapes stubborn stains while recollecting residual sewage.
Step Ⅳ: Suction
The inner brushless motor creating huge suction wipes off the remaining small particles such as sewage and dust.

OBS All-Terrain Detection System: Anti-collision, Anti-Fall, and Anti-stuck
W455 has a set of terrain detection sensors playing protective roles while assisting cleaning tasks.
7 groups of OBS obstacle avoidance sensors
3 groups of ground probe sensors
2 sets of sensors working while against the wall
1 group of nose wheel electronic detection sensor

Dual water tanks design
W455 is equipped with two separating water tanks--a 0.85L of the water tank, and the other 0.9L of slop tank. While the water tank sprays clear water to moisten the floor, the drain tank is responsible for the process of suction sewage, dispelling any potential secondary contamination. What is more, a large volume of tanks is helpful for a one-time large sweep.


Three cleaning modes

Path Mode: Cover a relatively larger space methodically and regularly.
Area Mode: Clean a designated area with an approximate range, generally is about 25 square meters.
Spot Mode: wipe out the stubborn stains in a spiral pattern.

Summary

The high-powered W455 will never let you down, deserving to be part of your home appliance. It is better for hard floors with fine sealability, such as ceramic tile, wooden floor, marble floor, and leather floor, etc., carpet excluded.






More Blog Articles You May Would Like to Read:
Recent Articles