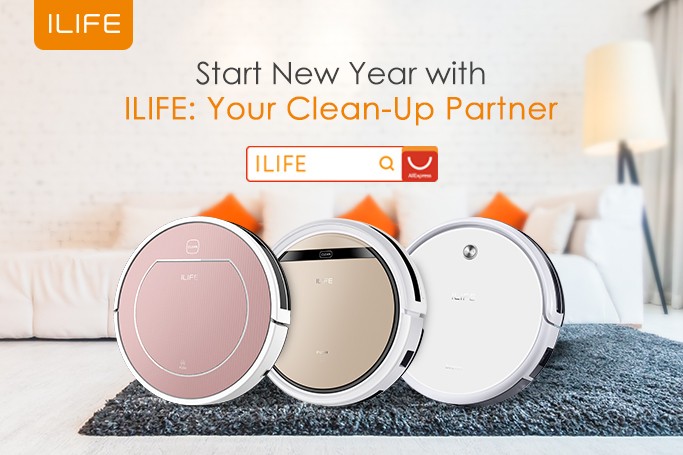 Start the New Year with a Clean-Up Partner from ILIFE
SHENZHEN, China, Dec. 6, 2018 /PRNewswire/ -- ILIFE, the user-driven innovation company with significant expertise in robot vacuum technology, will offer time-limited deals and extra consumer rights on "Brand of the Day", co-initiated by AliExpress.com and TMall.ru, to warmly welcome the New Year. The deals will begin at 00:00:00, 12 December (PST) on the ILIFE Official Store for just one day, so this is the best time to get an ILIFE robot vacuum to usher in a smart and clean new year.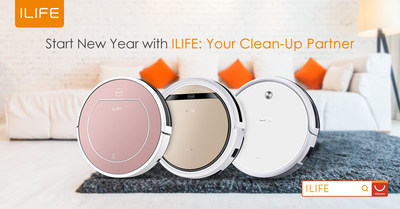 New Year Selected Models
V7s Plus
The pro vacuuming & mopping robot cleans debris, stains and dirt in multiple rooms and large spaces with a high capacity battery. With vacuuming and mopping modes, dirt and dust can be easily extracted by the brush and suctioned into the dustbin, while stains are effectively removed by the microfiber mop cloth.
V5s Pro
V5s Pro can easily handle vacuuming and mopping, meaning families have more time to spend together on the New Year. The enhanced brushless motor enables V5s Pro to clean the accumulated dust, and the i-Dropping Technology allows V5s Pro to easily removes stains on hard floors. The 4 different mode options will truly satisfy any cleaning demands.
A40
Superior CyclonePower Cleaning System combined with triangular side brushes, bristle brush and powerful suction achieves exceptional cleaning results. With multiple sensors featuring anti-stuck, anti-collision and cliff detection, A40 can independently works as a guardian of the household environment without any interference.
Time Limited Deals:
ILIFE celebrates New Year with a series of striking deals on 12 December (PST), and customers with a higher membership level will get more discounts. The details are as below:
| | | | |
| --- | --- | --- | --- |
| Models | Promotional Price | MSRP | Discount |
| A4s | $161.99 | 257.13 | 37% Off |
| A6 | $200 | 399.99 | 50% Off |
| V5s Pro | $154.28 | 257.13 | 40% Off |
| V7s Plus | $173.32 | 333.31 | 48% Off |
| V8s | $234.61 | 384.6 | 39% Off |
| W400 | $253.56 | 357.13 | 29% Off |
| A8 | $267.07 | 461.52 | 42% Off |
| A7 | $243.99 | 399.98 | 39% Off |
| V3s Pro | $121.99 | 199.99 | 39% Off |
Extra Rights and Interests
Warranty Extension
All purchases from the ILIFE Official Store on AliExpress.com during the event day are entitled to one-year extended warranty (Only for Europe).
Multiple Coupons
A $5 couple can be freely redeemed for any purchase and a $20 coupon is available for orders above $300. All the customers whopurchased products during "Brand of the Day" will get an extra $20 coupon within a week, which can be used toward another robot or accessory purchase.
To purchase ILIFE robot vacuum cleaners as New Year gifts, please visit: www.iliferobot.com
About ILIFE
Founded in 2010 and headquartered in Shenzhen, China, ILIFE is a high-tech company specializing in robotic cleaning technology. Having successfully penetrated the global market, ILIFE's sales network reaches over 30 countries and regions, offering technologically advanced, high-quality and cost-effective robot vacuums to the consumers around the world.
For more information, please visit: www.iliferobot.com
For media enquiry, please contact: media@iliferobot.com
Facebook: https://www.facebook.com/iliferobotics
Twitter: https://www.twitter.com/iliferobotics
YouTube: https://www.youtube.com/c/ILIFERobotics