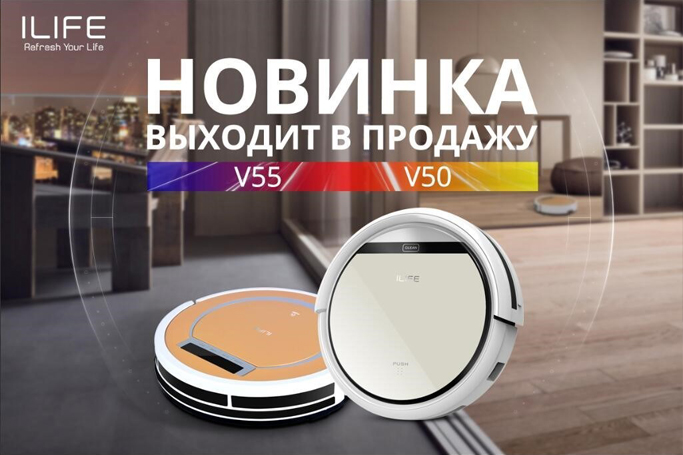 Leading robot vacuum manufacturer ILIFE opens store on Tmall's Russia-based platform
SHENZHEN, China, Dec. 26, 2017 -- Leading robot vacuum manufacturer ILIFE opened an online store on the recently-launched Russia-based version of Tmall, the B2C e-commerce platform owned and operated by China's e-commerce giant Alibaba Group, rolling out with two new products, the ILIFE V50 and the ILIFE V55, on December 24, 2017. The firm's presence on the Russian e-commerce platform, on the heels of the opening of its brand store on the AliExpress online retail platform, marks a further step in ILIFE's roadmap for expansion into overseas markets. By partnering with Tmall, ILIFE aims to provide more consumers worldwide with cost-effective robot vacuum cleaners and make the chore of keeping one's home clean less of a burden.
ILIFE has already achieved significant sales on AliExpress's marketplace for Russian-speaking consumers. The company's sales have risen rapidly since launching its products in more than a dozen new countries, including Belarus, Russia and Ukraine. ILIFE has been hailed by Russian-speaking shoppers. During the recent AliExpress 11.11 Global Shopping Festival, ILIFE achieved outstanding results and successfully ranked first in terms of sales in the robot vacuum category.
The two new cleaners launched on Tmall come equipped with two cleaning patterns, allowing for the scheduling of mopping as well as vacuuming. The ILIFE V55 features both vacuuming and wet mopping cleaning modes, delivering an overall improved cleaning experience. The ElectroWall enables the V55 to clean predefined rooms and areas. With the battery capable of holding a charge for up to 120 minutes, the V55 is able to complete the cleaning of the entire home without interruption. In addition, the clean on schedule, auto charge and obstacle-avoidance functionalities help reduce manual processes and create a more user-friendly cleaning solution.
With the vacuuming and dry mopping cleaning modes, the ILIFE V50 can deal with water stains as well as remove all dust while vacuuming. The ability of the unit to remain operational without being recharged for 120 minutes allows the V50 to cover a substantially larger area without interruption. The V50 also provides the clean on schedule, auto charge and obstacle-avoidance features.
In addition to the launch of two new products on Russian Tmall, ILIFE plans to provide consumers worldwide with more technology-leading, high-quality and affordable robot vacuum cleaners on both platforms.