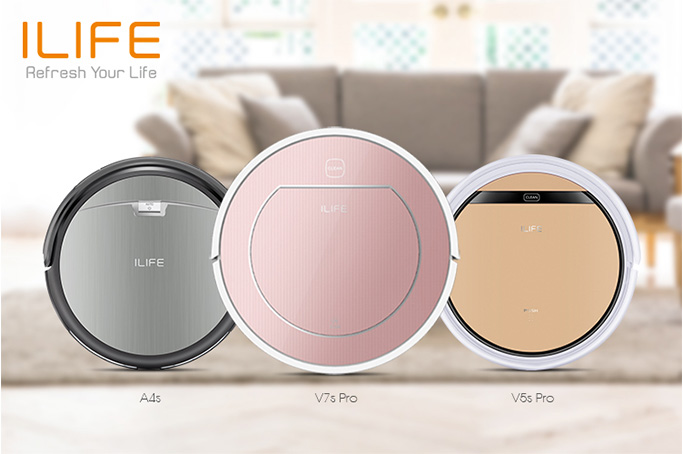 ILIFE ranks on AliExpress 11.11 Top 10 Brands List
SHENZHEN, China, Nov. 20, 2017 -- Leading robot vacuum manufacturer ILIFE achieved outstanding results during the recent AliExpress 11.11 Global Shopping Festival, outselling all purveyors of robotic vacuum cleaners. The company was also successfully ranked on the AliExpress 11.11 Top 10 Brands list in terms of sales, becoming one of the most popular brands among consumers worldwide.
During this year's Singles' Day, a shopping festival that takes place every year on the 11th of November, ILIFE achieved significant sales with several products, among which, the V7s Pro, updated with two cleaning patterns allowing for the scheduling of mopping as well as vacuuming, and equipped with Smart Dustbin Detection Technology and i-Dropping Technology, was the most popular robotic vacuum. Meanwhile, the A4s and the V5s Pro, the winner of this year's IFA Product Technical Innovation Award - Water Tank Structure Innovation Award, also experienced strong sales.
ILIFE, one of the robot vacuum brands which had earlier opened brand stores on the AliExpress online retail platform, has been hailed by shoppers and received positive reviews from the team at AliExpress responsible for partnerships. ILIFE had arranged sufficient manpower and goods in advance of the festival, in an effort to meet the demands of consumers worldwide and to be assured that every shopper who ordered a vacuum would receive one, and receive it in a timely manner.
Since inception, ILIFE has been focused on establishing itself as a world-class brand, paying greatest attention to product quality. The company sells products in more than 30 countries and regions worldwide and is at the forefront of sales rankings on mainstream e-commerce platforms, including Amazon and AliExpress. The company plans to continue investing in its R&D, providing consumers worldwide with technology-leading, high-quality and affordable robot vacuum cleaners.