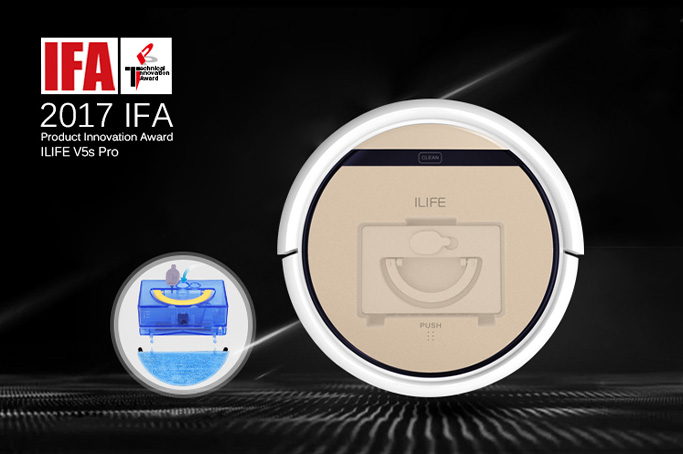 ILIFE Robot Vaccum Cleaner Shines with 2017 IFA Product Technical Innovation Award,Refresh your life
BERLIN, Sept. 3, 2017 -- On September 1st, 2017, IFA had ceremoniously opened in Messe, Berlin. As one of the world's largest consumer electronics shows, IFA is the most important platform for manufacturers and traders of consumer electronics products all over the world to gather, and display new products and new technologies. The exhibition has attracted many well-known manufacturers and well-known exhibitors at home and abroad to participate. Also, the top media and hundreds of thousands of spectators arrived at the scene, feeling the unique charm from the consumer electronics industry.
With the attention of around 500 top media of the world, the '2017 IFA Product Technical Innovation Award' list was announced officially during the exhibition, at which ILIFE V5s Pro, vacuuming & mopping 2 in 1 robot vacuum cleaner, won the 'Water Tank Structure Innovation Award'.
Except the new mopping function, another highlight of V5s Pro, the winner of 'Water Tank Structure Innovation Award', is its new water tank design with the innovated water spray type and sealed structure. The trickle type water tank structure design of V5s Pro is based on the inspiration of medical infusion. With this innovative design, the impact of medium could be reduced greatly, which ensures not only the sealing effect of the tank at static state but also the entrance of pumping air. This design is more efficient, and also makes the product itself more durable.
As a pioneer of the robot vacuum cleaner manufacturing market in China, ILIFE is an intelligent brand containing researching, manufacturing and marketing, achieving hundreds of technology patents in home cleaning robot domain. Founded in 2007, ILIFE has started the sales of its own brand worldwide since 2015. At present, ILIFE has set up a branch in Japan, and more branches are being prepared in the USA, Russia and Europe. ILIFE won the 'Best Design' award at the global service robot show last year. Recently, it won Editors' Choice Award by the domain experts on reviewed.com in the US. Besides, ILIFE has received extensive attention in the mainstream media in Europe and America, such as Forbes, USA TODAY, Good Housekeeping and so on.
At present, ILIFE has rapidly captured market share at a 100% annual sales growth rate, becoming one of millions of smart homes.
With the continuous improvement of living standards, consumer demand gradually tends to diversification and deep development. ILIFE V5s Pro vacuuming & mopping 2 in 1 robot vacuum cleaner won the IFA Product Technical Innovation Award, The Marketing Director Hu Huan of ILIFE shows that the future is not just home cleaning, public cleaning in outdoor areas is also ILIFE exploration area. ILIFE will always focus on consumer concerns, to improve the home environment, to make cleaning more efficient, continue to create competitive and humanized products, and further provide more excellent products and services for different consumers.