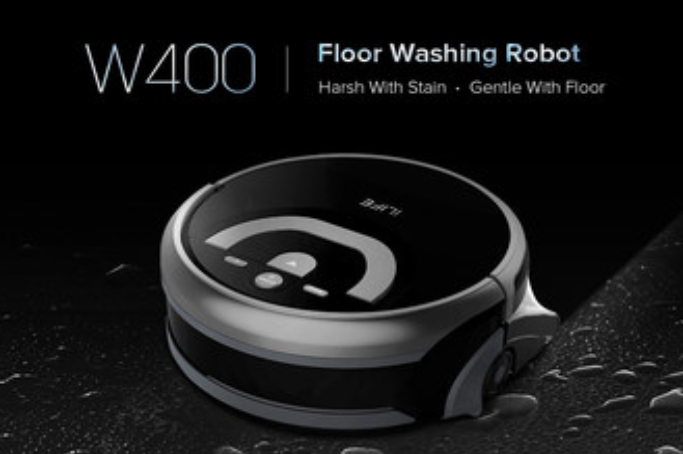 ILIFE Launches All-New Floor Washing Robot W400
It's Time to Enjoy the Real Immaculate Living
ILIFE, world renowned robot vacuum brand, unveils its first floor washing robot "ILIFE W400" today. Powered by the cutting-edge TidalPower Cleaning System and Clean/Dirty Water Separation Technology, W400 floor washing robot offers all-new, immaculate robotic cleaning solution—it tackles "thick" household stains including sauce, paint and footprints, and scrapes away water from the kitchen and bathroom floors to avoid wet floor slips and falls.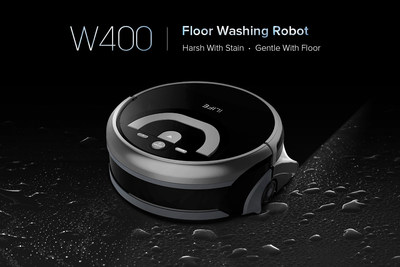 Cleaning more thoroughly than mopping robots, ILIFE W400 "washes" the floor repeatedly and thoroughly in 4 steps: moistening stains, scrubbing the floor, suctioning waste water and scraping residues off the floor. Unlike most mopping robots that scatter dirt on the floor, W400 extract stains in the same spot with a microfiber roller brush, and takes care of dirt and waste water with strong suction to avoid secondary pollution. The scraper removes residues so the floor is dry as soon as cleaning completes, causing minimal interruptions to your family life.
'Our robot vacuum technological achievements have brought us wide recognitions from the industry and the consumers in the past few years. These achievements are applied to our A series carpet cleaning specialist robots and V series vacuum/mopping robots. They have also enabled us to expand our global presence in Europe, North America and Asia,' says Chen Guanliang, VP of R&D of ILIFE. 'Our latest cleaning solution ILIFE W400 is designed to satisfy different cleaning needs in different environment. We'll continue to explore potential applications of robotic technology to our daily life."
TidalPower Cleaning System
With the new TidalPower cleaning system, W400 achieves deep cleaning in 4 steps and leaves the floor spotless without a water mark. It is suitable for cleaning the dining room, bathroom, kitchen and areas that require intensive cleaning.
Six tiny nozzles let out water to dampen the floor and soften the stains.
Ultrafine fiber brush rotates at a high frequency, gently scrubbing and deep cleaning the floor.
Powered by a built-in brushless motor, strong suction removes waste water to avoid secondary pollution. W400 produces strongest suction power in Max mode.
The scraper removes residual stains and water marks, leaving the floor completely spotless.
Clean/Dirty Water Separation
The new clean and dirty water separation technology is a key feature that differentiates ILIEF W400 from other mopping robots. While most sweeping robots mop with cleaning cloth, W400's water separation technology greatly improves cleaning efficiency by spraying clean water and suctioning waste water. This innovative wet cleaning solution avoids secondary pollution and provides better protection for the floor.
Availability
ILIFE W400 will be released during AliExpress 11.11 Global Shopping Festival, before when the Early-bird offer is available for pre-order on ILIFE's Official Store and Spain Store on AliExpress.com (Please visit: http://bit.ly/2q2bM0g) , and will land on other platforms soon.
About ILIFE
Founded in 2010 and headquartered in Shenzhen, China, ILIFE Innovation Ltd is a high-tech company specializing in robotic cleaning technology. Having successfully penetrated into the global market, ILIFE's sales network reaches over 30 countries and regions, offering technologically advanced, high-quality and cost-effective automated products to the consumers around the world.
'ILIFE' is a combination of the capital letter 'I' and the word 'LIFE', denoting everyone's pursuit of a better life. Over the past two decades, robot cleaners have helped millions of people around the world to create a clean living environment. As the world's leading robot vacuum manufacturer, ILIFE is dedicated to introducing and promoting a smart home ecosystem which allows families and individuals to experience the extraordinary convenience brought by artificial intelligence.
For more information, please visit: www.iliferobot.com
For media enquiry, please contact: media@iliferobot.com
Facebook: https://www.facebook.com/iliferobotics
Twitter: https://www.twitter.com/iliferobotics
YouTube: https://www.youtube.com/c/ILIFERobotics