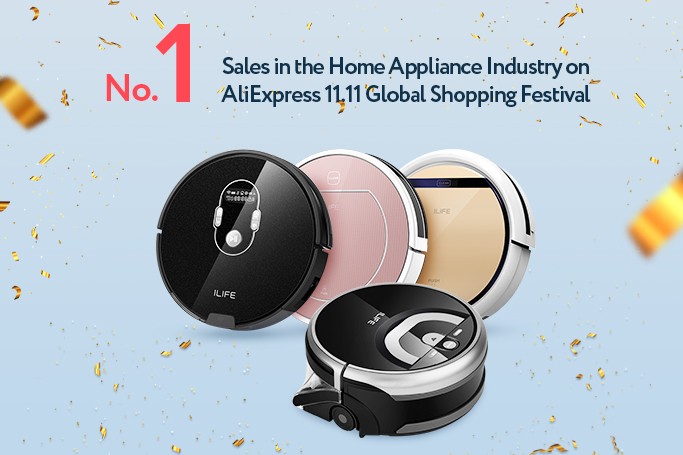 AliExpress No 1 Sales in Home Appliance Industry
AliExpress No.1 Sales in Home Appliance Industry: ILIFE Obtained Impressive Achievements on 11.11 Global Shopping Festival
AliExpress 11.11 Global Shopping Festival is considered as one of world's largest 48-hour online shopping festival, and ILIFE, the world-renowned robot vacuum brand, has achieved prominent results in this just-concluded Global Shopping Festival. ILIFE's global total sales have steadily occupied first place in the home appliance industry and top 10 in the whole AliExpress platform. At the same time, the domestic market has made huge breakthrough and the total volume has realized nearly 400% year-on-year growth. With both overseas and domestic record-broken sales, ILIFE has become one of the world leaders in the robot vacuum industry.
ILIFE has seen robust growth in sales since the opening of its stores on AliExpress and was named No.1 seller among all robot vacuums and 'AliExpress 11.11 Top 10 Brands' across the platform since 2017. The outstanding achievements can be attributed to its far-reaching strategies.
R&D, Manufacturing and Sales Integration
ILIFE is one of the few brands that integrates design, R&D, manufacturing and sales in this field, which has given ILIFE powerful technical driving force and acuminous market insights that allow ILIFE to satisfy different requirements of customers around the world when operating its own brands. According to different functions, ILIFE robot vacuums are divided into three series: A-series, V-series and W series. A-series specialize in carpet deep cleaning, V-series are designed for cleaning hard floor and W series, just globally launched several weeks ago, are the first floor wash robot on the market, which can easily tackle stains in 4 steps: moistening stains, scrubbing the floor, suctioning waste water and scraping residues off the floor.
Highly-Focused Single Business Model
As other brands are striding forward to multi-industrial development, ILIFE still consistently focuses on robot vacuum field to integrate resources and maximum advantages. Every year, we have been investing 10% of sales in research and development, and now it turns out our unparalleled competitiveness. Innovative technology enables cost to be effectively controlled so that customers around world can purchase cost-effective and premium performance robots. "Good Price, Good Quality" is what ILIFE has always been adhering to.
Widely recognized by consumers in Russia, Poland, Spain, US, Japan and other countries and regions, ILIFE will continue to uphold the mission of "Making cleanness easier to make life better ", and will keep pursuing technology innovation to bring the smart clean living to more customers.
About ILIFE
Founded in 2010 and headquartered in Shenzhen, China, ILIFE is a high-tech company specializing in robotic cleaning technology. Having successfully penetrated the global market, ILIFE's sales network reaches over 30 countries and regions, offering technologically advanced, high-quality and cost-effective robot vacuums to the consumers around the world.
For more information, please visit: www.iliferobot.com
For media enquiry, please contact: media@iliferobot.com
Facebook: https://www.facebook.com/iliferobotics
Twitter: https://www.twitter.com/iliferobotics
YouTube: https://www.youtube.com/c/ILIFERobotics