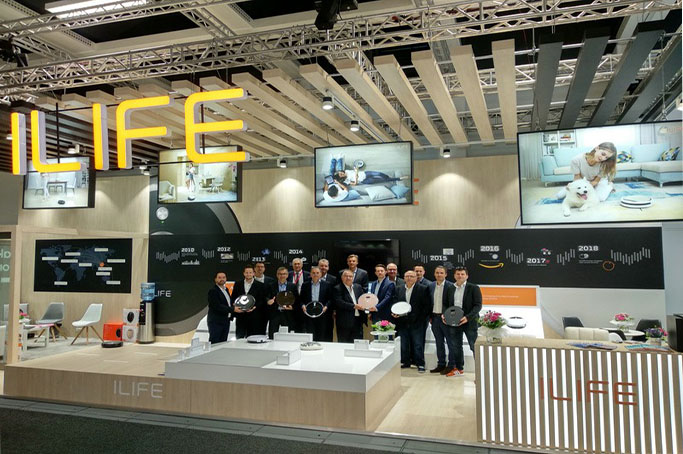 ILIFE Showcases Smart Clean Living Solutions at IFA 2018
BERLIN, Sept. 1, 2018 /PRNewswire/ -- ILIFE, industry-leading robot vacuum developer, manufacturer and marketer, is presenting its growing collection at IFA, which opens its door today at Messe Berlin. IFA is the world's leading consumer electronics and home appliances trade show.
Displaying best-in-class performances, ILIFE's new models -- carpet deep cleaning and integrated mopping and vacuuming robot vacuums -- have become the center of attraction in the show. These models also mark ILIFE's another step toward making smart and automated cleaning solutions available to more households.
'IFA provides a great platform to showcase what ILIFE has to offer to the consumers across the globe,' says Chen Guanliang, VP of R&D of ILIFE Innovation Ltd. 'Our long-term vision and confidence in the robot vacuum industry have guided us to make considerable investments in the research and development, ensuring that the general public can experience more convenience brought by cutting-edge technology'.
ILIFE's state-of-the-art cleaning robots at this year's IFA include:
A7 -- Ultra-performance robot with multiple cleaning modes: The CyclonePower Cleaning System enables A7 to perform high-efficiency cleaning and tackle complex cleaning tasks with triple-headed side brushes, floating rolling brush and powerful suction. Activated by a multifunctional App, remote control and the button on the body, A7 is a good helper for every member of your family.

A8 -- Panoramic navigation assisted robot cleans with a vision: A8 can 'see' walls, furniture and even pets in close proximity, and 'decide' its path to perform collision-free, methodical and thorough cleaning.

V8s -- Vacuuming and mopping combo ensures thorough cleaning: V8s comes with the award-winning i-Dropping system and can be easily switched between dry sweeping and damp mopping, effortlessly removing paw prints, spilled milk and stubborn stains.

Next generation models -- app-controlled robots with smart planning and navigation systems: Equipped with a HD camera and an advanced CV-SLAM graphics algorithm, these future models that will be launched next year offer unparalleled cleaning experiences and open up a new era of smart home cleaning.
With strong technological R&D and production capacities and sound grasp of the users' needs, ILIFE has realized 100% year to year sales growth since 2015, and will continue to expand its global footprints, bringing leading-edge, cost-effective home appliances to more households around the world.
IFA 2018 opens from today to September 5. To learn more about ILIFE's robot vacuum collection and smart cleaning solutions, ILIFE is located at Stand 111, Hall 7.1C (IFA Home Appliances).

About ILIFE
Founded in 2010 and headquartered in Shenzhen, China, ILIFE Innovation Ltd is a high-tech company specializing in robotic cleaning technology. Having successfully penetrated into the global market, ILIFE's sales network reaches over 30 countries and regions, offering technologically advanced, high-quality and cost-effective automated products to the consumers around the world.
'ILIFE' is a combination of the capital letter 'I' and the word 'LIFE', denoting everyone's pursuit of a better life. Over the past two decades, robot cleaners have helped millions of people around the world to create a clean living environment. As the world's leading robot vacuum manufacturer, ILIFE is dedicated to introducing and promoting a smart home ecosystem which allows families and individuals to experience the extraordinary convenience brought by artificial intelligence.
For more information, please visit: www.iliferobot.com
For media enquiry, please contact: media@iliferobot.com
Facebook: https://www.facebook.com/iliferobotics
Twitter: https://www.twitter.com/iliferobotics
YouTube: https://www.youtube.com/c/ILIFERobotics